These days, there are more and more people want to steal images from web without any afford, infringing the copyright of images. We have to protect our images from them. But what is the best method to protect your image copyright? I tell you, the only effective way to discourage theft of images from your web site is to add copyright watermark in the images.
There are two ways you can choose:
The first way is to edit all of your images to embed a copyright watermark in your images before you upload them to your site. So that the only versions of the images on your site are the ones with the copyright watermark embedded in them. If someone wants to get a copy of the image without the watermark, they must have to manually edit the image in their own graphics editor to attempt to remove the copyright information, but this is very difficult. They have to keep two copies of the image (one with and one without the notice), and you need to reapply the copyright watermark every time you change the image.
Another way is to dynamically add the copyright watermark to the images when they are viewed. Only one copy of the images is needed, but the processing is required to add the copyright watermark at each time when the image is displayed to plus the fact that the images without the copyright need to be on your site where there is at least the possibility that someone may find a way to access them directly. These disadvantages can be overcome by storing the original images in a password protected folder or above the root folder of your site and by setting up a caching system, so that a copy of the images with the copyright notice added are available for direct use with the script to add the copyright only needing to be run once for each image.
Let's keep things simple, Stephen Chapman's Dynamic Copyright Watermark is a little difficult for usual people. But, undoubtedly, add copyright watermark is the only effective way. Is there any way to add copyright watermark to your photo easily? Absolutely! Watermark Software offers a lot of copyright watermarks for you to protect your photo copyright.
Step 1, Start.
Click here to download watermark software, then launch this software, choose the picture which you want to add watermark to them, click "Next" to edit window,. then, click "add image" to image edit page.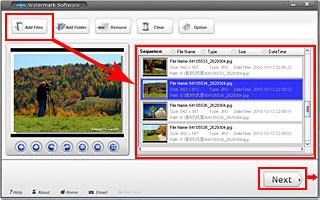 Step 2, Add files.
Select existed watermark image or new image from your harddisk. Click "Browse" for selecting new images for harddisk, click "OK" to select existing images.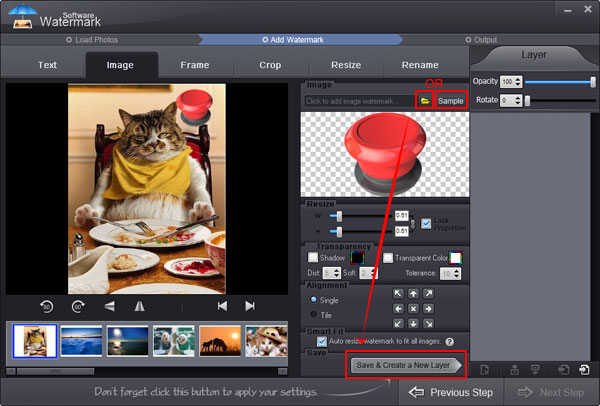 Step 3, Edit.
Watermark software's simple interface will tell you how to set here to adjust aspect ratio of image watermark(Default: W=1, H=1), selected lock box to binding width and height for your photo. You can adjust Opacity for your need (0-100) and adjust rotate for your need (0-360). You can choose "General" or "Tile" to place you text watermark on images, general is to place one text on images, tile is to fill full text on images. (Tile is a strong protect copyright mode)Alignment setting to control text's azimuth on images.